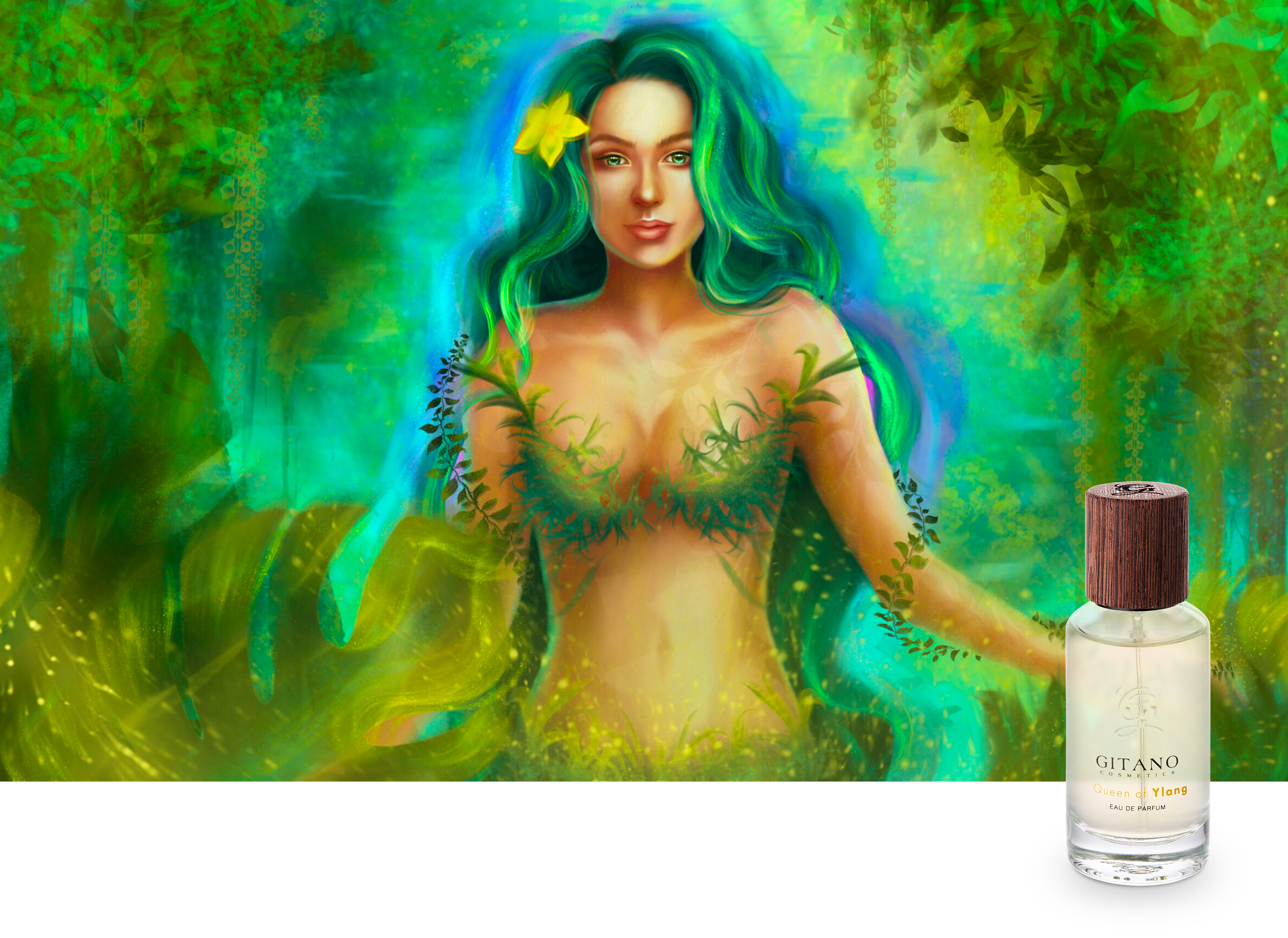 Queen of Ylang
EAU DE PARFUM
I had a strange dream. I found myself in a garden which was… well, like in a dream: lush trees raising their branches to the sky. Amongst the mesmerising colours and extraordinary shapes of the blossoms, climbing plants were shaking hands as they bent towards the ground and cascaded down like a waterfall.
I felt the intoxicating scent of orchids embracing and engulfing me. I hid behind a tree and watched to see what would happen.
Semi-transparent figures in light dresses the colour of butterfly wings began to appear. They floated gracefully through the air, seemingly not even touching the ground. They brought small bottles, parts of flowers and the twigs of plants, and laid everything in one place. One of the fairies then gestured with her hand, as if she was mixing paint on an artist's palette. All the ingredients they had brought rose aloft, creating a vortex that flew through the air, wove its way amongst the surrounding plants, and slowly descended into a lavishly decorated amphora. The fairy took it in her arms and walked towards me. She smiled at me. She had known I was there all along! She nodded gently, inviting me to come out from my hiding place. I felt the leaves of the plants embracing me. A few bright yellow flowers landed in my hair. My body was immersed in the most beautiful fragrance I had ever known. The fairy handed me the amphora and said: Welcome, our queen. You are now the ruler of the empire of Ylang-ylang. The plants around me bent their heads to the ground, as though in greeting, and the infinitely sensual scent of the Ylang orchid filled the air.
Awaken the queen in you and don't forget to live!
Head
bergamot, orange blossom, jasmine
Heart
ylang ylang, rose buds
Kind of fragrance
floral, musky